Charles Boyer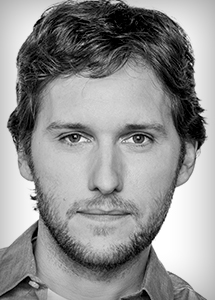 As a child Charles Boyer's world was encompassed by rock n' roll music. His father was one of the few Canadians to attend Elvis Presley's concert on April 3, 1957 in Ottawa. From that point on he was transmitted his father's passion for rock n' roll.
Consequently, his love of music led him to positions in radio such as, coordinator of a student run college radio station and host on a community radio station (Radio Centre-Ville Montreal).
With a background in computer sound engineering, he worked on various commercial soundtracks for companies such as: Rogers, Yoplait, and Volkswagen.
After winning the Coup de cœur award at the International song festival in Granby with his group Chapeaumelon, he toured various clubs and festivals throughout Quebec and made three appearances at the renowned Montreal Francofolies. In 2003, his first album made its way to the top ten on the charts of the newspaper Le Devoir; and was ranked among such artists as Jean Leloup and Ariane Moffat.
Altogether in his element on stage he did not leave behind his love for studio recordings. His material and songs were used on various American TV shows, including Las Vegas and Scooby Doo to name a few. One of his compositions was also incorporated into the Hollywood film "Eurotrip".
After many years in the music world his evolution has now lead him to actively participate in the creation of musical content for the Galaxie music channels.
The spillover of his father's love of rock n' roll had an enormous effect on Charles as he is now the content manager for several Galaxie channels; Nostalgie, Franco Retro and Jukebox Oldies as well as programmer of Souvenirs. The love of music is transported over time and over generations.
Interests
Traveling

The outdoors

Music

Family

History

Favourite bands
Beach Boys

Bee Gees

Françoise Hardy

Beatles

Elvis Presley

Roy Orbison

Franco Rétro (944)
Get cheered up instantly by the joyous, carefree music of French yéyé from the sixties all the way to music influenced by love, life and liberty of the seventies.
More on Franco Rétro
Nostalgie (943)
Feel the nostalgia in the powerful lyrics and unforgettable melodies of the chanson française of the fifties, sixties and seventies, with legendary songwriters like Jacques Brel, Robert Charlebois, etc.
More on Nostalgie
Souvenirs (942)
Let us bring you back to the classic English and French hits spanning from the mid 70's to mid 2000's with chart-toppers by Roch Voisine, Sting, Céline Dion etc.
More on Souvenirs