Patrick Binette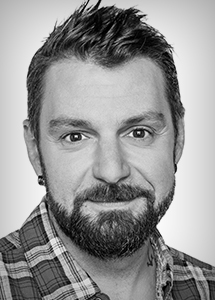 "Alternative Rock is not a musical genre, it's a lifestyle. That why it's musically so vast and anchored in the present." So it's not from radio or in books that Patrick found his music but through his passion for riding motorcycles, snowboarding, backpacking, punk rock, tattoos and underground cultures...these songs are the soundtrack to his day to day life. It's the same passion that brought him from HMV to music programmer at Musiqueplus, promo rep for A&M and Universal and back again to Musiqueplus in 2005 this time as the Music director. "When I found myself in Musiqueplus music meeting or Videofact board committee, I used my gut and not my head to decide if I loved a song or not. For me a good song is one that makes you feel like hitting the road, jumping on a board or cracking a six pack with friends..." Now a programmer at Galaxie, Patrick wants to face the music the only way he knows... "Programming music is a treat, not a job. And it's particularly fun right now, because the alternative music scene in Canada has never been this strong..."
Interests
Riding country roads on my motorcycle

Walking cities of Eastern Europe

Snowboarding/Boxing

Drinking with old friends and drinking with new friends

Favourite bands
Depeche Mode

The Offspring

U2

Social Distortion

The Killers

Billy Talent

Jay-Z

Influences
Alternative music to keep me young

Country music for the way of life

Rock music for the open road

Pop music because girls like it

Remember the '80s (911)
There's lots not to forget. Relive the decade that saw the birth of music videos and MTV, when pop music was dominated by the electronic sounds of the synthesizers: Duran Duran, Michael Jackson and more.
More on Remember the '80s
Rock (901)
There is only one word needed to describe this channel. Rock. There's the hard kind, the hair kind, some punk kind, a dose of the classic kind, the occasional soft kind, the underground kind and the indie kind.
More on Rock
Rock Alternative (902)
High energy, ground-breaking new sounds, with roots deep in the rock of ages. Feel the hard intensity of today's best alternative rock sound and be reminded of the beginnings of grunge.
More on Rock Alternative
Urban Beat (916)
Enter the provocative and rebellious world of the urban music scene, from hip hop to rap to contemporary R&B, featuring Beyoncé, Drake, T-Pain, Rick Ross, Nicki Minaj, Usher and more.
More on Urban Beat